We're Getting Mutants in the MCU - The Loop
Play Sound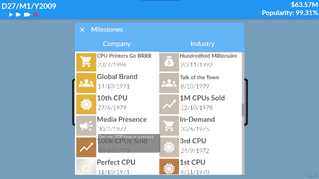 Milestones help to illustrate your company's growth; they work like achievements.
Company milestones
Company milestones were first introduced in version 0.2.5 and expanded upon in 0.2.10. They work like achievements, being a merely visual indication of progress.
Below is a list of all[1] unlockable company milestones.
Icon
Name
Description
Unlock Requirements
1st CPU
This is just the beginning...
Release 1 CPU
3rd CPU
Not giving up? Good.
Release 3 CPUs
10th CPU
Can't stop innovation.
Release 10 CPUs
50th CPU
Monopolistic practices, huh?
Release 50 CPUs
100k CPUs Sold
That's quite a lot!
Sell 100 thousand CPUs in total
1M CPUs Sold
That's a big round number!
Sell 1 million CPUs in total
10M CPUs Sold
That's enough, you can stop now.
Sell 10 million CPUs in total
100M CPUs Sold
Wait, that's actually possible?
Sell 100 million CPUs in total
Golden CPU
Develop a CPU that scores over 90 points in a review.
Perfect CPU
A perfect 100! This calls for a company party!
Release a CPU that scores 100 points on the initial review
Media Presence
Get over 900 hype on a product.
Get Hyped
Get over 3500 hype on a product.
The Cake is a Lie
Get a yield of 10 or more research points per day.
In-Demand
Sell over 1000 CPUs in one day.
CPU Printers Go BRRR
Sell over 5000 CPUs in one day.
Hundredfold Millionaire
Have at least $100M available.
Billionaire!
Have at least $1B available.
Talk of the Town
Reach 25% popularity.
Global Brand
Reach 100% popularity.
The Greybeard
Reach CPU level 20.
Proud Shareholders
Be valuated at $500M.
Reach $500M company valuation
Big Fish
Be valuated at $3B.
Reach $3B company valuation
↑

There is 1 hidden company milestone not listed here.
Industry milestones
Industry milestones were added to the game in version 0.2.8.
Below is a list of all industry milestones along with the products from the default campaign that unlock it (unless the player does it first).
Name
First Achieved By
Date Achieved
1st Market CPU
Inlet i4000
Y1971 M1
10 MHz Mark
Inlet 16i 1616
Y1982 M1
100 MHz Mark
Inlet Tetrum 4 Pro
Y1995 M12
1 GHz Mark
Inlet Tetrum 7
Y2000 M11
5 GHz Mark
unattainable due to the lack of 5 GHz technologies
16-bit CPU
only possible to achieve by competitors as of now
32-bit CPU
64-bit CPU
1st Dual-Core
IAM PWR4
Y2001 M9
1 µm Mark
NIC W80
Y1989 M2