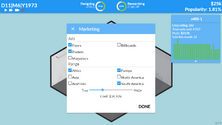 Marketing is available only while designing.
You can select and unselect all campaign types and regions at once by clicking the respective header textbox (click 'Ads' to select all ads and 'Region' to select all continents).
There are 6 campaign types in total:
Flyers - $5,000
Posters - $13,000
Magazines - $50,000
Billboards - $150,000
TV (Unlocked in 1975) - $400,000
Internet (Unlocked in 2000) - $1,000,000
There are 6 regions - continents available:
Africa
Asia
Australia
Europe
North America
South America
Campaign Size
Edit
Campaign size is adjustable with the slider.
Community content is available under
CC-BY-SA
unless otherwise noted.